Sudden forced departure by new landlord
New landlord causes grief to existing customers of Cathy at 97 Scollard
Had to change name, website, and everything else related.
For a good period of 6 years, people knew us as Cathy at 97 Scollard. But an unfortunate set of events occurred in 2015 that forced us to suddenly move locations and change our name. So with Cathy at 97 Scollard – what happened? Here's what took place. Hopefully this story will rectify any confusion for our beloved customers.

Familiarity breeds loyalty. And over the years, Cathy had established a fine and loyal customer base who came from all over to be served by Yorkville's finest hair designer and aesthetician, quickly branding herself as Cathy at 97 Scollard. Her practice was becoming a household name in hair design, aesthetics, and just beginning her dive into cosmetic laser services.
But then in 2015 it changed.
The landlord of 97 Scollard decided to sell the building to another landlord. The new landlord wanted all existing businesses and practitioners in the salon at 97 Scollard to vacate completely with little time to make appropriate adjustments and notifications to their respective customers. We were given just a month to leave.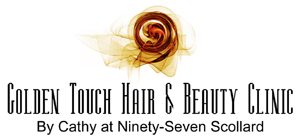 On top of that, the new landlord said we had to change our website and name as they didn't want any exterior affiliation to 97 Scollard, even going so far as to threaten us if we didn't act fast enough. With no other choice, we changed almost immediately to Golden Touch Medispa, and changed our website to goldentouchmedispa.com, with ninetysevenscollard.com active until the domain expired later that year.
Confusion and Chaos
We were running a few deals through Groupon at the time, and a steady stream of loyal customers, unbeknownst to them, kept coming to 97 Scollard not fully aware that Cathy at 97 Scollard was not there. Fortunately, we found a new spot that was literally right across the street on the top floor of 88 Scollard Street. We made mention of it on our then soon-to-be defunct ninetysevenscollard.com website and communicated to our contacts at Groupon and Buytopia accordingly.
But that didn't help. A few customers got worried and complained to Groupon that we had shut down. Those who ventured to 97 Scollard were treated poorly by the new landlord, further hurting our situation. Things had to change.
A Familiar Face Under a Different Name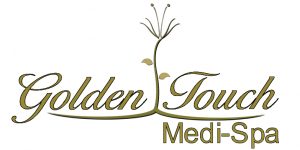 At the time, we were loosely known as Golden Touch Hair & Beauty Clinic, as that was our official business name. But people still knew us as our operating name Cathy at 97 Scollard. We carried the Golden Touch Hair & Beauty Clinic name until finally settling with Golden Touch Medispa as we became more involved with cosmetic laser and other medi-spa procedures.
As our business focus evolved, so did our image. Unfortunately, however, the landlord at 88 Scollard made it difficult for us to display our logo, therefore further confusing customers who had finally accepted us in our new "skin."
Our business advisor, Sean, had endeavoured a few times to create a door sticker with Golden Touch Medispa's logo for customers to see at street level, only to have it removed shortly after, all at his expense. Our customers were befuddled and frustrated, and rightfully so. We've made strides to rectify the situation, and now we finally came to terms with who we are and established a static
So now this is who we are: Golden Touch Medispa, formerly known as Cathy at 97 Scollard.

Mea Culpa
To our dear and beloved customers: we apologize for the confusion. Please understand that the events that took place in 2015 was not our direct fault and that we were the victims of circumstance. We are still fully capable to serve you at the same–and improved–service level you had come to experience.
We invite you to come and experience what you once knew as Cathy at 97 Scollard again. We're launching several deals on Buytopia for hair and laser hair removal services so please check them as soon as they become available.
We're firmly planted at 100 Scollard Street at street level for hair, and at 1240 Bay for all aesthetic, cosmetic laser and spa services.