Keratin is a special protein that protects cells from damage or stress and maintains the structure of your hair's body. Keratin infuses vital nutrients into your hair that give it a smooth texture and prevents frizz from occurring all while improving strength and durability over long periods of time.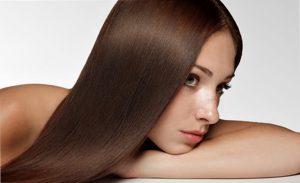 Used by hair designers and professionals all across the globe, keratin is a crucial step in optimal hair health. Keratin helps your hair to:
Have a stronger body
Have a brighter shine
Be less frizzy
Our specialists at Golden Touch know the importance of maintaining strong, healthy-looking hair. You should have hair that gleans and shines no matter the time of the day.
Our keratin treatment is gently applied, ensuring absorption into your hair for optimal effect. We recommend that, following application, the hair not be washed for a period of two weeks to enable the keratin absorption to take place.
Allow up to an hour for full keratin application process. As long as you properly maintain it, your hair will be utterly gorgeous. It's a fantastic way to revitalize the look of your hair, its strength and shine.
Call or email us today to book your no-obligation appointment.