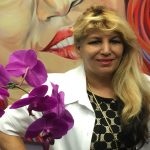 Summer is about flaunting yourself in vibrant colours along with a style to complement your personality. This article takes a look at my impressions for what could be your own unique style for the 2017 summer season including Boho style clothing.
You've seen articles online pushing specific colours and styles for the summer, often at their own sense of style. That's fine—there are legitimate influencers out there that do have a sense of style. But that's all fine and dandy; what it's lacking is a personal touch. And that's what I'm here to do for you.
"Style is all about expressing your inner flair and not so much what the beauty industry or society tells you"
 There was an article on Yahoo! back in early May talking about suggested summer styles. I don't have the link to the article at the moment however it said the summer of 2017 was full of Boho style clothing. When you think Boho you think of the Sixties' era where flowy, peasant-style clothes like tunics with a ruffled linen fabric and shoulder-exposed motif populated the time. I do agree with this.
In these warm temperatures the last thing we need is to have tight clothes so as to prevent our bodies from breathing and essentially create a furnace of epic proportions. The more flowy the better if you ask me.
Before we get into my suggestions for summer style, it's important to remember that style is all about expressing your inner flair and not so much what the beauty industry or society tells you. Finding find that special niche within you and expressing it accordingly is the optimal thing you should be achieving, fashion bloggers be damned.
One thing I've said I like is colour, bright, vibrant colour. I'm talking hot pinks and vivacious greens and soothing yet electric blues. And in some instances it's okay to explore the mulled colours from decades past, particularly the creamy colours of the 70s. That said, let's explore some styles I think are the best way to assemble your look for this season.
Tops and Blouses
I personally like bright colours. Some have said the metallic look is "in" at the moment, and I cannot fathom why. Summer is about bright colours, waking up from a sleepy slumber of dullness as exhibited in the winter months.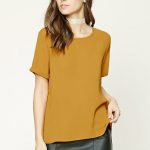 Forever 21 Boxy Woven Yellow Top
There's a cute but nostalgic yellow top at Forever 21 that screams character. It's dressy enough to be worn on its own or under a nice blazer for those important meetings without needing to sweat up a storm.
Speaking of Forever21, and who doesn't wish they were forever the age of 21, there's a cute satin top in a mauve colour that caught my eye.
Forever 21 Crinkled Satin Top
This crinkled satin top looks incredible and screams chic. The low-cut neckline satin blouse from Forever 21 creates enough of a sensual touch without breaking any barriers of decency.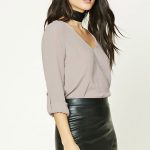 The crinkled satin means that it doesn't require much in the way of ironing (although you probably should just to save embarrassment of unmistakable wrinkles) so it's easy care for you.
Maison Simons Linen Tunic
Above I mentioned Boho style. What's Boho without a long, flowing tunic? Tunics give space for the summer breeze to whisp its way through your body and provide relief from the warm air.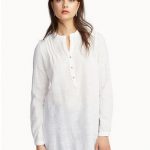 Maison Simons in Square One in Mississauga has this cute linen tunic that goes with any sort of arrangement. Light, soft, and flowy, it goes well with a long skirt to amplify the look.
Pants/Leggings
The Boho look extends to that below the belt, and what better way than with colourful and/or loose pairs to complement you.
Old Navy Pixie Ankle Pant
I just love the colour of these pants.The red catches the eye as was the norm of style decades ago when the Boho style was a regular sight.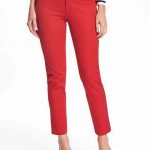 From Old Navy, there's a cute rolled oat colour with a semi-shiny lustre so it would pair well with a shiny top, like a satiny tank or sleeveless blouse.
BCBGMAXAZRIA Tapestry-Print Pants
To relive the 60s you need to indulge in the style. In particular that means taking advantage of the loose pants that went along with it.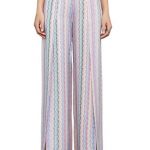 These awesome looking pants from BCBGMAXAZRIA are a perfect way to exemplify the Boho style while still staying modern. Plus the colour of these particular pants are incredible. I might go out and buy a pair myself.
Accessories
The Boho style dictates eccentric accessories to complete the ensemble. Hats and chokers are among my picks for amplifying a summer Boho style.
COLLECTION 18 Hat
A well-brimmed hat is an ideal way to block out the sun's rays on your cute face while still remaining stylish.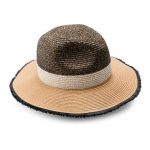 This hat from COLLECTION 18, found Hudson's Bay, is one of my favourite ways to give an added push to your already-excellent style. (Just don't use it to hide the fabulous cut and style you got from Golden Touch too).
Maison Simons Leather and Lace Choker Set
And, lastly, chokers add a beautiful finishing touch, like the one I spotted at Maison Simons. A package of two, the leather and lace (brings back memories of the song by Don Henley and Stevie Nicks, doesn't it?). Chokers give a sultry visage to your neckline, and really do wonders to improve the sexiness of any wardrobe it's a part of.
For your hair, I can definitely lend a hand, especially if you want your 'do to do more for you.
Remember, at the end of the day (I hate that expression but it's so relevant right now) we have to be comfortable with who we are. Your style is ultimately unique, and that should be the number one factor when considering how you want to compile your look for the season and beyond.
It's all about exemplifying you, your character, and your own unique style and grace. That means embracing our own style and even going so far as to add bits and pieces from external sources be it beauty influencers, seasonal trends or other fads that so happen to be the thing at the moment. That's okay. But it's when you base your entire appearance on what others are saying you should be wearing/doing that it gets dangerous and you lose sight of who you are.
It's my goal to help you find your beautiful, regardless of what others think. If you want a compassionate, judgement-free approach to your style, then I am the woman to talk to.
With love,
Cathy
With contributions from Sean Mitchell
***DISCLAIMER: I am not affiliated with any of the above retailers. The links to the corresponding product pages are there for your leisure and convenience and in no way do I profit from you purchasing from them.***