For a unique and semi-permanent way to shape your eyebrows, Golden Touch Medispa offers the finest microblading in Yorkville.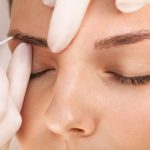 The process uses a fine needle and another shaping tool to reshape the structure of your eyebrows. Numbing creams are applied before the procedure is completed to minimize discomfort, as well as antiseptic treatments to ensure constant cleanliness to the area it is applied to.
Cathy at Golden Touch ensures a gentle touch when initiating microblading, so you are in good hands for a semi-permanent eyebrow shape. Keep in mind that it is not permanent and lasts roughly 1 to 3 years depending on skin type and skincare habits.
Essentially it is like drawing in eyebrow texture to look like additional hairs. You can style it any way you like as it is like a semi-permanent tattoo for your eyebrows. Actually, think of it like getting tattoos done on your eyebrow to make it look more vibrant and sleek.
Microblading involves using a needle with a type of ink to give the impression of additional hairs without using hair follicles. So you give off the illusion of sleek, full and styled eyebrows to anyone you dare to wink your eye at. It is relatively pain free and provides a lasting benefit with little maintenance.
Golden Touch Medispa is your premiere source for microblading in Yorkville from Cathy, an experienced and compassionate practitioner who believes everyone deserves the opportunity to be beautiful.
Book your free consultation and no-obligation appointment today. Our booking tool is now available here.