Does applying the same make-up day-in, day-out get bothersome? Ever wish you could have make-up that doesn't need to be applied daily? Your wish has come true: Golden Touch can help you save precious time and money with permanent make-up.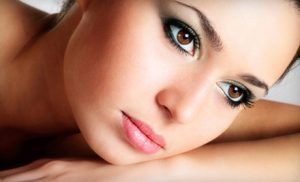 Permanent make-up—or cosmetic tattoos—is make-up that's infused into the thin layers of your skin (like a tattoo) to give you a bright, vibrant colour all the time.This lets you save valuable time and money by not needing to repurchase or reapply make-up on a regular basis while constantly looking your best.
Our cosmetic tattoos are applied in a sanitary and clean environment with little discomfort. Get vibrant, colourful make-up on your:
– Eyebrows
– Eyeliner
– Whole eye
– Lips
Cosmetic tattoos last as long as you want them to and you save time, money and frustration without having to constantly purchase and apply make-up.
Call or email us right now to book your no-obligation appointment today (416) 508-4243